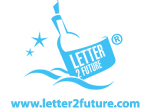 | | | |
| --- | --- | --- |
| | | Bus išsiųstas: 01-05-2018 |
Dear future me,

Life right now is fun right now, lets hope that it stays this way. Our grades are "okay" and I hope that our grades in high school grades are better then now. If we change our minds and go to collage pick something out of Joplin, and Missouri because you know how much we want to leave. But life right now is good and always keeps your head up.

Two goals I have for high school is to go to, and get most of what I need to become a something and go out and get a job, but another goal is to make sure that you try before you give up.

I would like my life to be good and I hope that my life is doing better then they are right now and nothing happens to them and every one dose better and that we have a car and not get in an a rack.